Category
Leyton House Rhassoul Revitalise Conditioner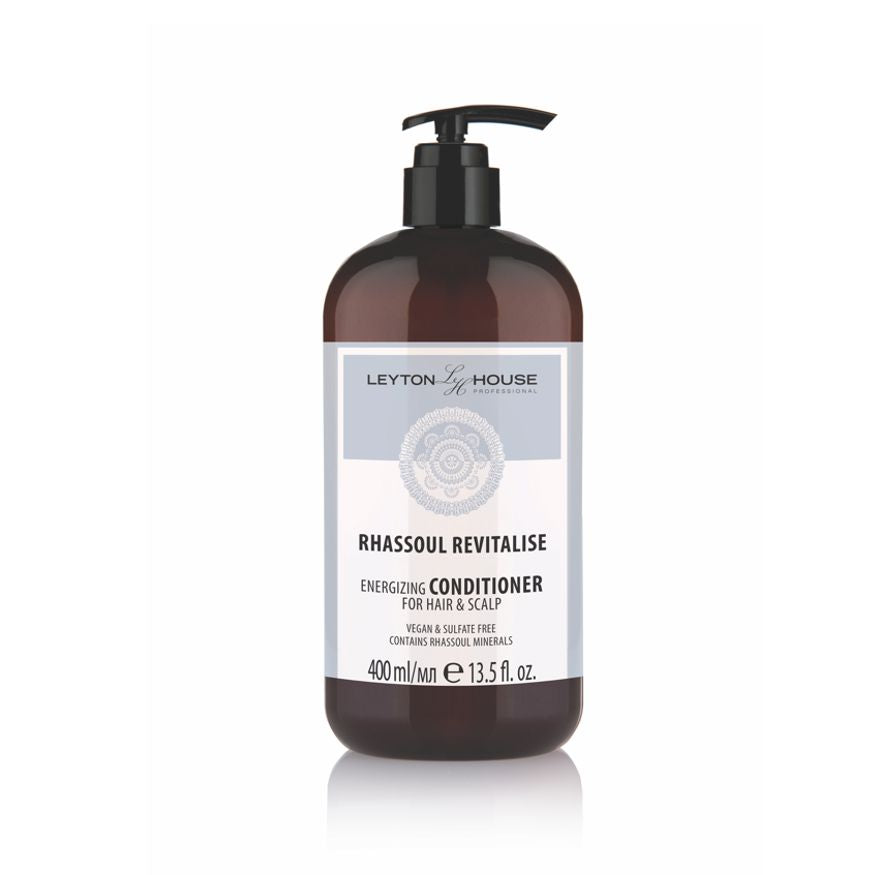 Leyton House Rhassoul Revitalise Conditioner
Regular price
£8.35 GBP (£10.02 inc VAT)
Regular price
Sale price
8.35
Unit price
per
Sale
Out of stock
Product Description
---
Share this Leyton House Rhassoul Revitalise Conditioner
Add this Leyton House Rhassoul Revitalise Conditioner to your basket:
Product Information Delivery Costs Payment Options Returns Reviews 0
---
Product information
Reinvigorate lifeless fine hair and create volume and body with this lightweight, citrus infused duo. Containing Rhassoul mineral clay, Revitalise Energizing Shampoo and Conditioner are enhanced with Orange Seed oil which is rich in Vitamin C to stimulate hair fullness and growth.
This formulation also features a combination of Vitamin B5 Panthenol, Guar Bean derivative to help strengthen damaged hair, Soy Proteins to improve texture, strengthen and repair damaged hair. 
Revitalise Conditioner contains our famous Rhassoul mineral clay, combined with a small quantity of coconut oil keeping the hair looking healthy and protects hair from protein loss. A superior natural conditioning solution.
THIS PRODUCT HAS POSTCODE RESTRICTIONS. (We can only supply to local postcodes, or collection from our Kings Lynn Store)
---
Delivery Options & Charges
Please select your delivery option during the checkout proccess. All prices exclude VAT.
£50-
£50+
£100+
UK Standard Delivery
3-5 working days
£3.95
FREE
FREE
UK Next Working Day
Ordered before 12noon Mon-Thur
£7.95
£4.95
FREE
Scottish Highlands Standard Delivery
3-5 working days
£12.95
£7.95
£7.95
Scottish Highlands Next Working Day
Ordered before 12noon Mon-Thur
£16.95
£11.95
£7.95
Click & Collect
From our King's Lynn shop
FREE
FREE
FREE
---
Safe & Secure Payments
We accept the above debit / credit cards. Your card details are safe and secure, all payments are processed by our trusted partner WorldPay.
---
14-Day Money Back Returns
This product is eligible for our 14-day money back returns.
You have the right to cancel and return your order within 14 days of delivery without giving any reason. The cancellation period will expire after 14 days from the day on which you acquire, or a third party other than the carrier and indicated by you acquires, physical possession of the Product(s).
To exercise the right to cancel, you must first contact us by post or email of your decision to cancel your order before returning your product(s).
For hygiene reasons we cannot accept returns of some products.
For full information about our returns policy please see section 4 of our returns policy.
Got a question about this leyton house rhassoul revitalise conditioner?